What message could be the most effective nationally for the Democrats come November?
I am always on the lookout for effective messaging that we can use when we're talking to other voters or on social media, and so I keep an eye on the surveys that come out from Navigator Research, whose mission it is to provide messaging guidance to Democratic elected leaders and allies.
In their most recent survey, they explored how Americans felt about inflation and its causes. Here is a graph of the primary results: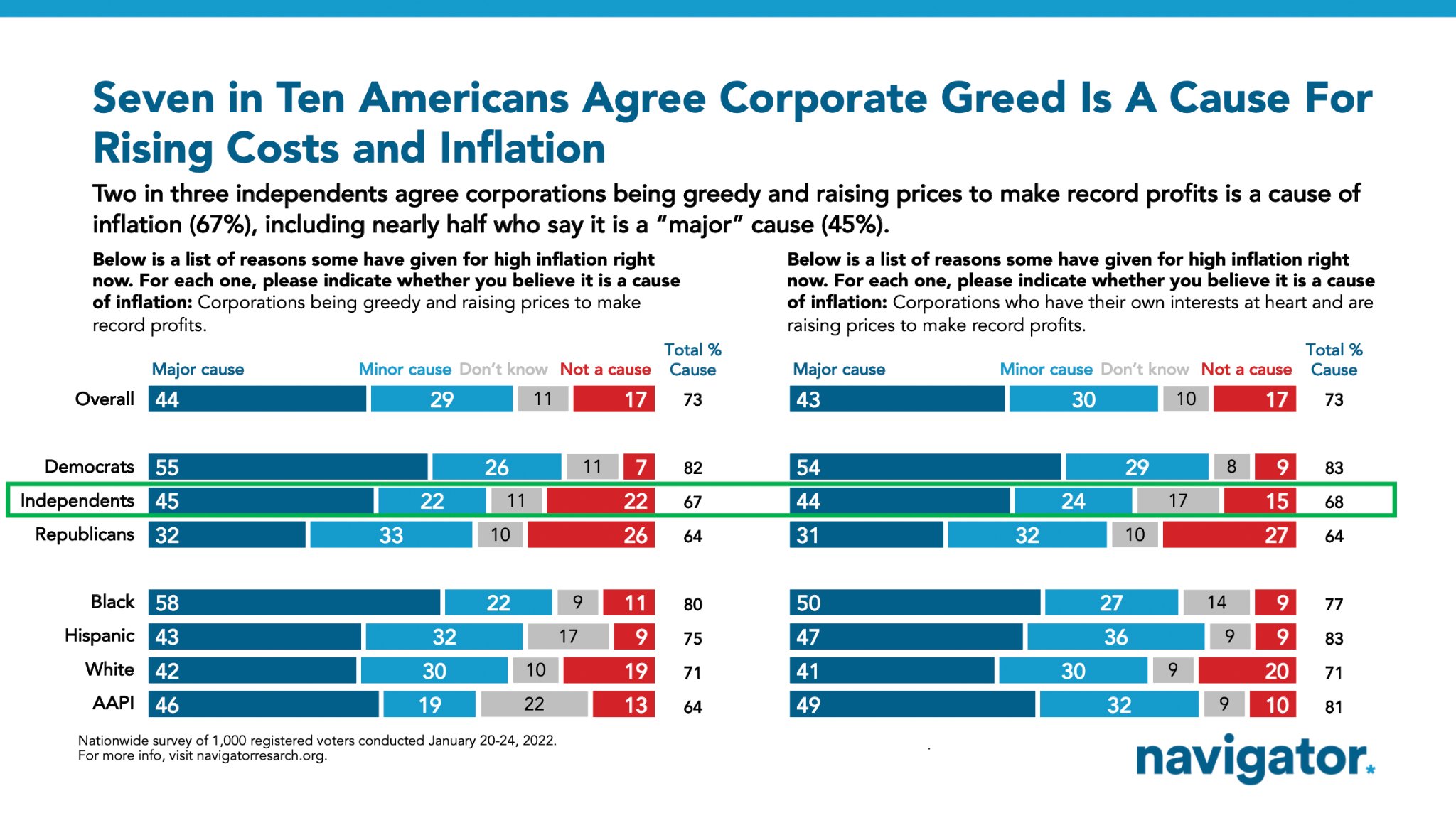 Not surprisingly, Americans are hearing about inflation at the same time that major corporations are announcing record profits. The big oil companies (Exxon, Chevron, Shell & BP) have announced record profits, along with everyday companies like McDonalds, Starbucks, and UPS.
Here's a Twitter thread that points out where each of these companies are literally bragging to their shareholders about doing this:
And so, perhaps it's not a surprising result to see that 7 in 10 Americans agree that corporate greed is a cause for rising costs and inflation.
Democrats are already starting to use this messaging. For example, here's a sampling of tweets just in the last couple of days:
Rep. Pramila Jayapal: "When the world's wealthiest corporations report record profits, but still raise prices — that's not inflation, it's corporate greed. And we must put an end to it. Now."
Rep. Peter DeFazio: "Corporate greed is the reason Americans face rising costs and inflation. It's time to pass the #BuildBackBetterAct so working Americans get a fair deal."
The Progressive Caucus in Congress: "Corporations are raking in record profits, squeezing working families with raising prices, and blaming inflation for those increases. We all see through it. Congress must take action that lowers costs, taxes wealthy corporations, and rebalances this inequity for the people."
I encourage everyone to repeat this language or rephrasing it in your own words, whether you make content yourself or like to leave comments on social media. By working together to set this messaging in the minds of more Americans, we can help counteract the messaging from the Republicans who, of course, want to blame it on President Biden.
---
Hi there!
Did you know I push out additional political content on Twitter, TikTok, & Instagram? If you're on those platforms, follow me!
Also, if you get some value out of this content and want to support me and this blog, consider joining my Patreon — you could do it once or be a recurring patron.
Thank you!!
---
---
Categories: Uncategorized