We have a great opportunity to flip a few Senate seats to the Democrats this November, and the Wisconsin Senate seat is one of our best bets.
Let's do a quick run down of why Ron Johnson needs to lose his re-election bid, who is running against him, and a few ideas of how you can help lay the groundwork right now to flip this seat.
Why Johnson must go
Ron Johnson has delivered nothing for Wisconsin or its people, and instead spends his time pushing out conspiracy theories. Here's a small selection of quotes he's said recently that demonstrate what a poor representative he is for the great state of Wisconsin:
He's discouraged people from getting vaccines: "We all hoped and prayed the vaccines would be 100% effective, 100% safe. But they're not. We now know that fully vaccinated individuals can catch Covid, they can transmit Covid. So what's the point?" source
He's peddled multiple kinds of quack remedies for COVID, including mouthwash: "Standard gargle, mouthwash, has been proven to kill the coronavirus. If you get it, you may reduce viral replication. Why not try all these things?" source
He's a climate change denier: "I don't know about you guys, but I think climate change is — as Lord Monckton said — bullshit." source
He said the quiet part out loud regarding the skin color of the insurrectionists: "Even though those thousands of people that were marching to the Capitol were trying to pressure people like me to vote the way they wanted me to vote, I knew those were people that love this country, that truly respect law enforcement, would never do anything to break the law, and so I wasn't concerned." source
From the very beginning, he's downplayed the seriousness of the insurrection: "We've seen plenty of video of people in the Capitol, and they weren't rioting. It doesn't look like an armed insurrection." source
He won't try to keep jobs in Wisconsin: On the prospect of Oshkosh Corp's plans to move to South Carolina, he said, "It's not like we don't have enough jobs here in Wisconsin. The biggest problem we have in Wisconsin right now is employers not being able to find enough workers." source
He won't even do the most basic parts of his job: Prior to voting on the historic bipartisan infrastructure bill (which finally did pass and was signed by Biden at the end of last year), Johnson admitted that he didn't even read the bill. "And, I'll be the first to admit, I didn't read the thing." source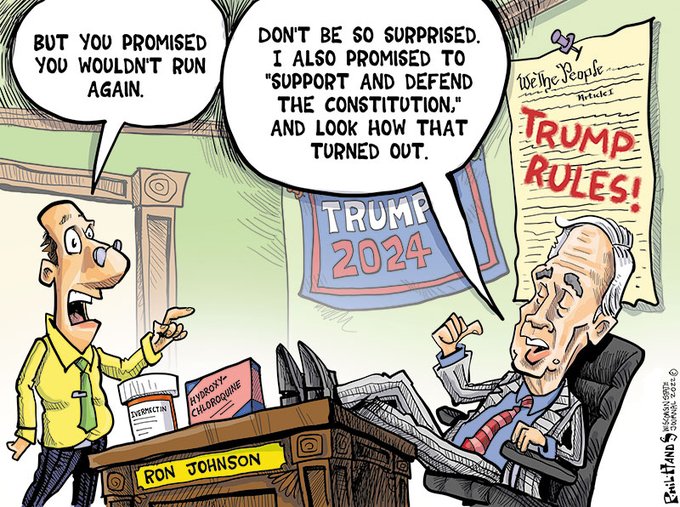 The Democratic challengers
Until the primary happens on August 9, we won't know who the Democratic challenger will be. There are a number of people running so far, although from a fundraising perspective, there are 3 clear frontrunners: Lt. Governor Mandela Barnes, State Treasurer Sarah Godlewski, and SVP of the Milwaukee Bucks, Alex Lasry. The full list of candidates can be found HERE.
How to help
If you're in Wisconsin, first and foremost, make sure you vote in the primary and get everyone you know to vote in the primary on August 9. For everyone else, I implore you to pay attention to who the voters in Wisconsin want for the primary.
The best way to support the eventual Democratic candidate to take on Ron Johnson is to support the Wisconsin Democratic party. Not every state party is headed up by a dynamo, but Wisconsin's got Ben Wikler — organizer extraordinaire! If anyone can get this seat flipped, he can, so support them with donations.
Until we have a final candidate, let's focus on getting folks registered to vote (or confirming that their registration is still active), and ramping up enthusiasm to vote. Check THIS for ideas on how to help get people registered, and consider signing up with Postcards for Swing States which will be focusing on Wisconsin, among other states.
---
If you're new here:
If you're on board to help get more Democrats elected up and down the ballot in the November midterms, please subscribe to get helpful posts delivered to your email and share them on your social media channels.
I push out additional political content on Twitter, TikTok, & Instagram so follow me on those platforms.
And finally, if you get some value out of this content and want to support me and this blog, consider joining my Patreon — you could do it once or be a recurring patron.
Thank you!!
---
---
Categories: Uncategorized