The day has arrived! Today, we get rid of Trump and say hello to Joe Biden and Kamala Harris!!
At the bottom of this post, I have some information about where you can watch the inauguration ceremonies plus some fun facts you should know, but first, I wanted to share some gorgeous photos of two installations the Inaugural Team put together in the lead up to the big event today.
First, President-Elect Joe Biden and Vice President-Elect Kamala Harris honored the 400,000 American souls who have been lost to COVID19. They did this by installing 400 lights around the Reflecting Pool. Here's how that looked.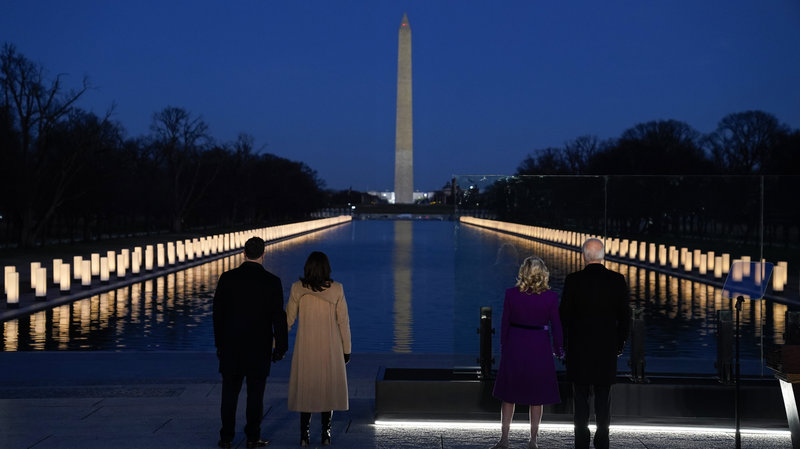 It's just unbelievable that this is the first official recognition of the terrible toll this virus has had on our country. Honestly, just seeing the photos from this event made me slightly weepy.
Then, we have the incredible installation that is currently on the National Mall. Since we can't congregate in the Capitol to celebrate Biden's swearing in, the Inaugural Team put together this incredible flag display to represent those of us who would have wanted to be there in person.
Here's how the full installation looks: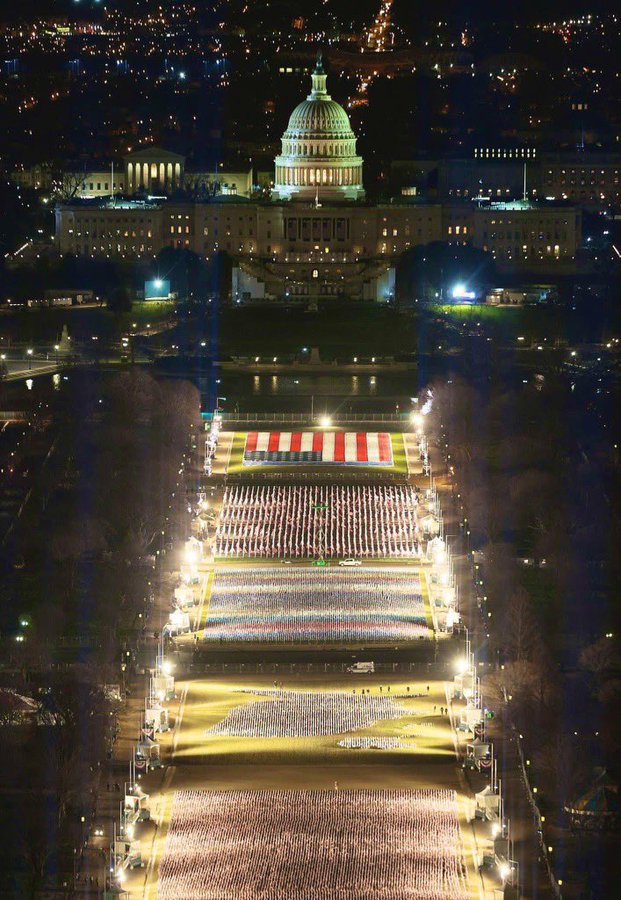 The "Field of Flags" has flags from every state and territory. On either side of the Mall, there are 56 pillars of light, to represent the 50 states and 6 territories. When I posted this on social media, I got several folks who were just so overcome by the inclusion of the territories, as they are so often ignored. Again, here is Biden and his team making his inauguration about all of us, not about him.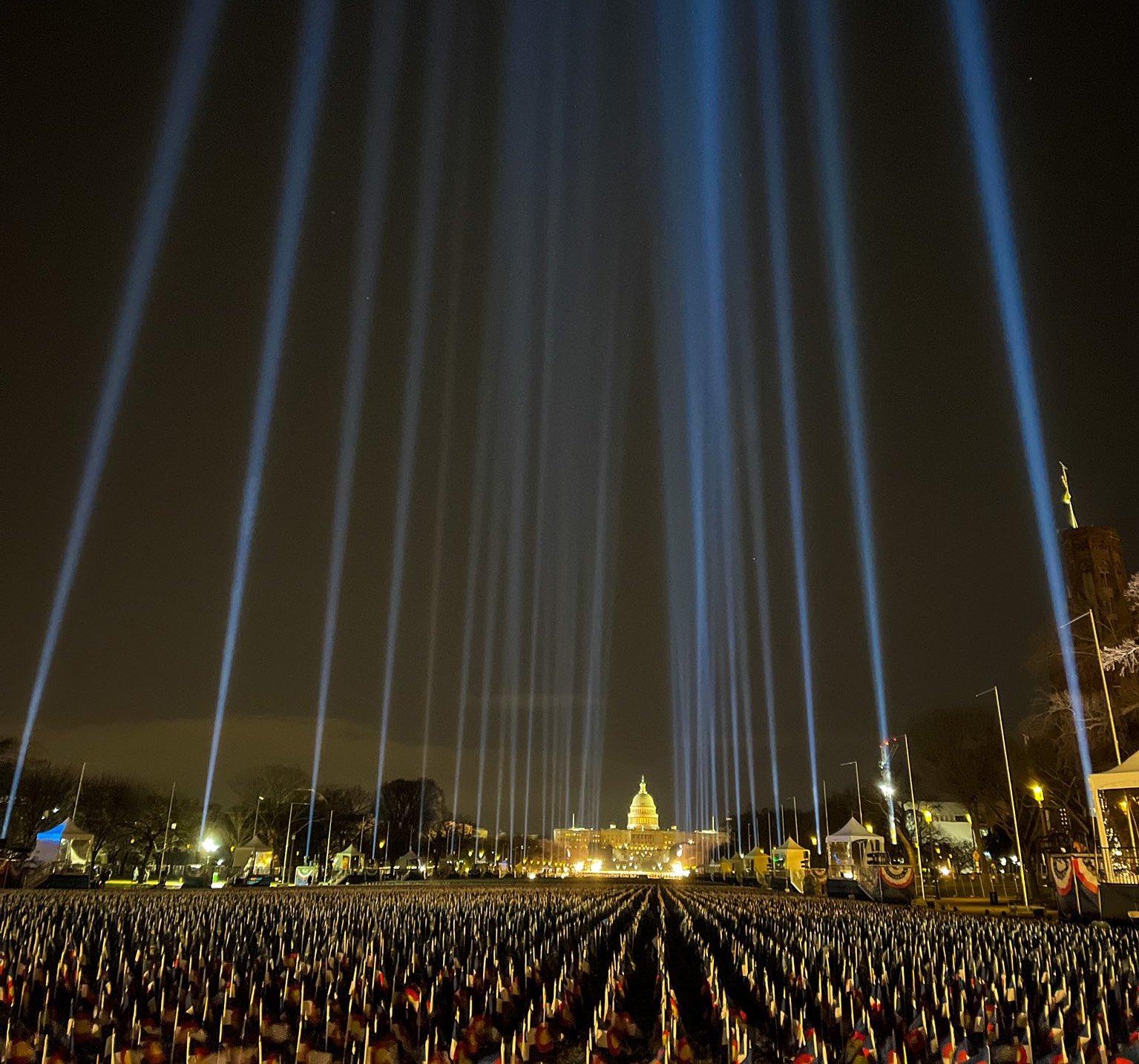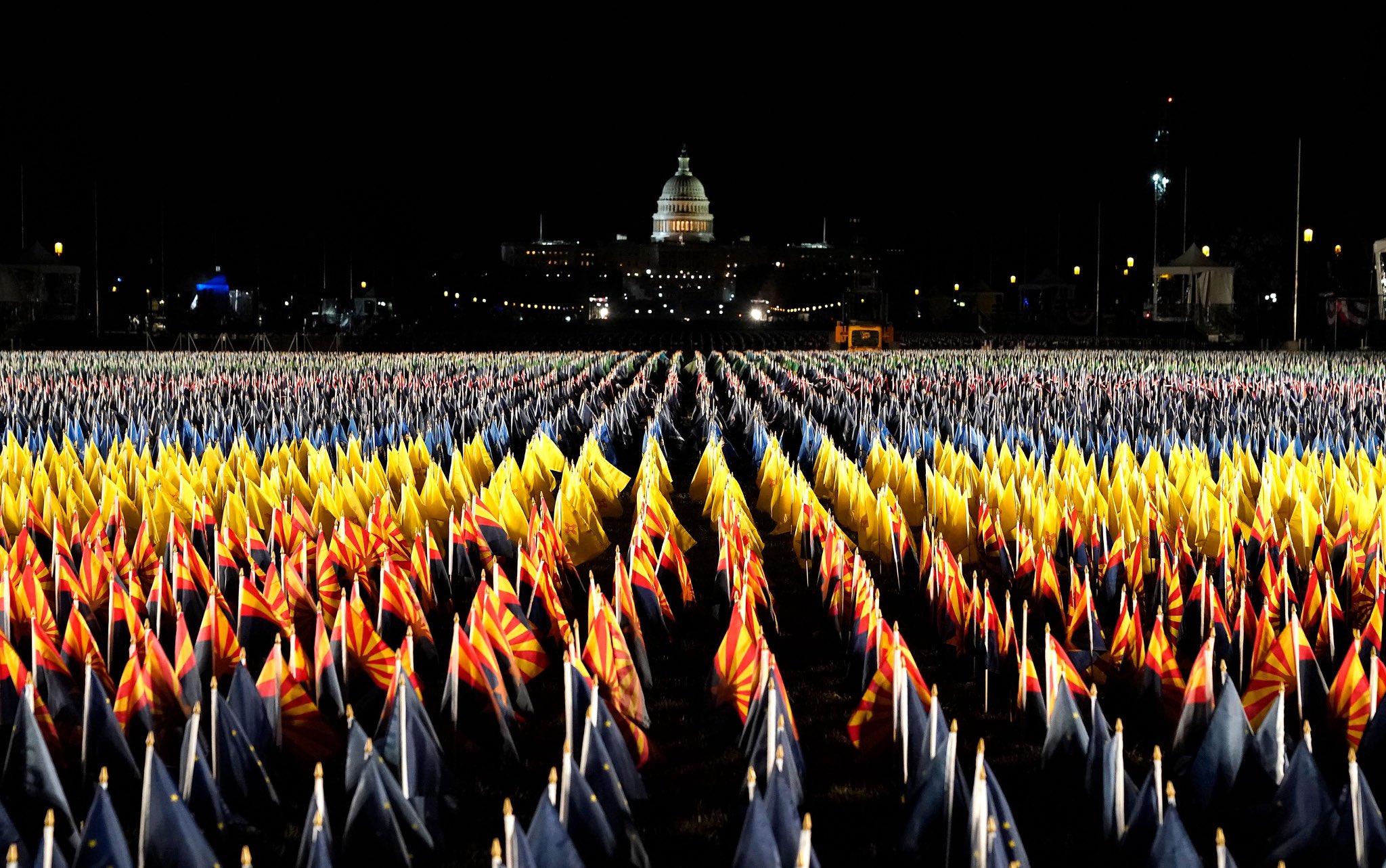 I already feel more a part of this inauguration than I ever have before. I know that's in part because I've worked consistently for the past 4 years to get to this point, but also because I can feel the inclusion coming from Biden, Harris, and their team.
Now, for some fun facts and useful info.
◙ You can watch the inauguration pretty much everywhere, but it will be livestreamed on YouTube. Here's the link to the Biden's team YouTube channel. The festivities start at 8:30am PT/11:30am ET. There's also a longer list of channels and services where you can watch HERE.
◙ Kamala Harris will be sworn in by Supreme Court Justice Sonia Sotomayor slightly before noon ET.
◙ Joe Biden will be sworn in by Chief Justice John Roberts right at noon ET.
◙ Former presidents Barack Obama, George Bush, and Bill Clinton will be in attendance. So will Mike Pence, who is reportedly attending Biden's inauguration, but not Trump's farewell event.
◙ Donald Trump will not be in attendance, the first time in 150 years an outgoing president will not be attending the inauguration of his successor. Biden called Trump's decision not to attend "one of the few things he and I have ever agreed on."
◙ After being sworn in, Biden will make his inaugural address. Following that, he and Harris will do the customary inspection of the troops. Normally, that would be followed by a parade from the Capitol to the White House, but this year, the Biden team will host a Virtual Parade.
◙ Due to the coronavirus, there will be no inaugural balls. Instead, there will be a TV special tonight entitled "Celebrating America" hosted by Tom Hanks.
Also happening today: Raphael Warnock and Jon Ossoff will also be sworn in as Senators today. And Kamala Harris herself, as VP, will swear in Alex Padilla, who is filling in her own Senate seat for California.
This is going to be a good, good day.
---
Find me on Twitter, Instagram, and Facebook
Subscribe to get these blog posts automatically
Join my Patreon community
---
---
Categories: Explainers