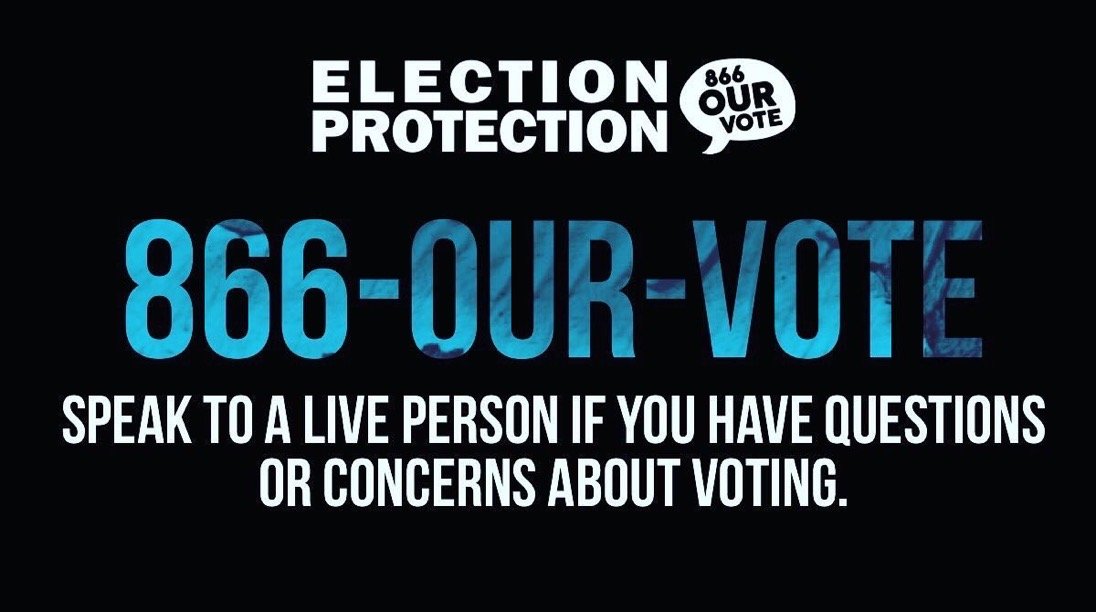 Most voters who are casting their ballots on Election Day won't run into any trouble. But, you never know if that will be you or not, so it's important to be prepared.
Imagine this scenario: You get an urgent text from a friend saying that they are getting grief from a poll worker who won't let them vote. What would you do?
You text them back and say, "Don't leave the polling place. Call 866-OUR-VOTE right now. They'll help you."
The folks at Election Protection work with an impressive network of partners to take care of voters and guide them through any questions they have regarding voting, helping them deal with anything that might go wrong, and making sure their vote gets counted.
Here's what I want you to do right now. Save the image at the top of this post and copy and paste these numbers into your phone:
English 866-OUR-VOTE 866-687-8683
Spanish 888-VE-Y-VOTA 888-839-8682
Asian Languages 888-API-VOTE 888-274-8683
Arabic 844-YALLA-US 844-925-5287
Now you're ready in case you run into trouble, or you find yourself needing to help someone on Election Day. If you have any social media accounts, consider sharing this post or this info with your community.
I hope I'm wrong, but my guess is more people than usual are going to need this number this election. Thank you for spreading the word!!!
---
Election Eve reminder: If you haven't made your plan to vote yet, read THIS to get ready!
---
---
Categories: Uncategorized