Most people think the vice presidential debate is a snoozefest. But I doubt many people are thinking that in 2020.
With the current president sick from COVID19, and both the president and Joe Biden in their 70s, America's voters will be taking a hard look at VP Mike Pence and Senator Kamala Harris as simple life expectancy charts tell us that they are more likely than any of their predecessors to have to step into the presidency mid-term.
I don't know about you guys, but this is the debate I've been waiting to see.
How to watch the debate
When: Wednesday, October 7 at 6pm PST/9pm EST
Where: The University of Utah, Salt Lake City is hosting the event
Channels: Basically, the debate will be everywhere. ABC, CBS, NBC, Fox, PBS, Telemundo, Univision, CNN, MSNBC, and CSPAN. YouTube, Apple TV, Amazon Fire TV, and more will be livestreaming it. You can also listen to it on NPR.
What kind of precautions will there be?
Harris and Pence will be separated by 12 feet. What few guests will be allowed in the room will be required to wear masks. (Of course that was also true at the first presidential debate but no one threw out the Trump family once they were seated and took the masks off.) After a lot of hot air from the Pence folks, they finally agreed to the Biden/Harris campaign's demand to install plexiglass barriers between the two.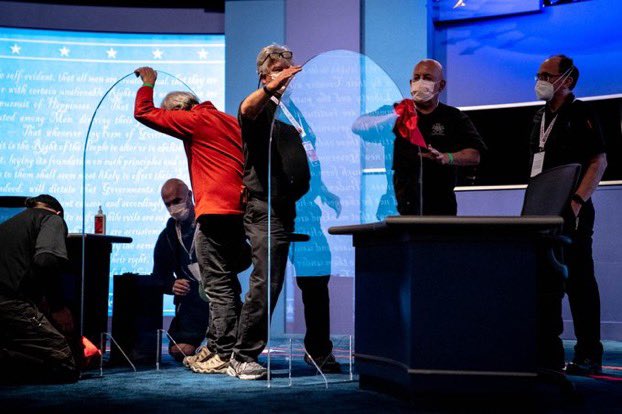 Who is moderating the debate?
Susan Page, the Washington Bureau chief of USA Today is moderating the debate.
Page has not released the list of topics she intends to cover. But we do know that the debate will be divided into nine 10-minute sections. Each candidate will have two minutes to respond to the opening question in each segment.
What topics might be covered?
The administration's handling of COVID19 will be a likely topic, not just because Trump is sick with the virus, but because Pence himself headed the administration's coronavirus task force. For the same reason, healthcare is likely to be another topic that we'll see covered. There is also conjecture that Page may ask about succession, considering the age of both Trump and Biden. Personally, I hope they are asked about voting rights.
When are the next debates?
The next presidential debates are on October 15 in Nashville, and October 22 in Miami. Obviously, the remaining debates are in the air due to Trump's illness.
Additional reading
The most important vice presidential debate in American history
---
There's less than a month to go before Election Day! Download my free checklist today: 19 Quick Ways to Turn Out the Vote in 2020. Each action takes 10 minutes or less!
---
---
Categories: Uncategorized