The impeachment trial of President Trump is now underway. For only the third time in our country's history, a president has been impeached and now the U.S. Senate must conduct a trial to determine what happens next.
First, Rep. Adam Schiff, as the lead House manager, read out the two articles of impeachment to the full Senate. Then, Chief Justice John Roberts was sworn in.
Once he was sworn in, the Chief Justice read out the oath that all of the Senators must take prior to the start of the trial. It is an oath they take on top of the oath they take when they assume office. This is the text of the impeachment oath: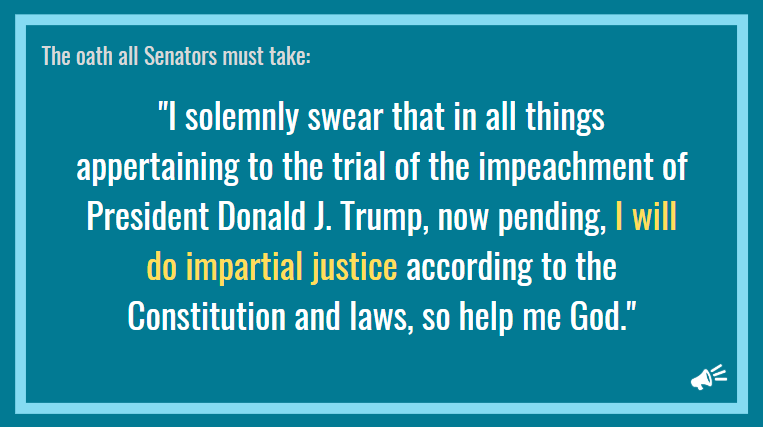 After verbally assenting to the oath, all of the Senators signed their names in the oath book, so there is a written record.
The Senate is in recess tomorrow. The trial will start in earnest on Tuesday, after the holiday. The trial will continue every day except Sundays until it is completed.
This weekend is the PERFECT time to call your Senators–whether they are Democrats or Republicans–and tell them that you expect them to take their oath seriously. Some of you may have Senators who have made statements recently that indicate that they won't take their oath seriously. I made a list of them on Twitter:
I'm glad the trial is starting and I hope Americans will tune in. The trial will have a very different feel to the House proceedings, mostly as the rules governing the trial are so different from conducting hearings. Be sure to read this quick guide so you know what to expect next week:  How Will the Senate Impeachment Trial Work? Your Questions Answered.
⚡
Twitter: @DHStokyo
Instagram: @DHStokyo
Facebook: Political Charge 
Subscribe to get my posts via email
---
---
Categories: Uncategorized